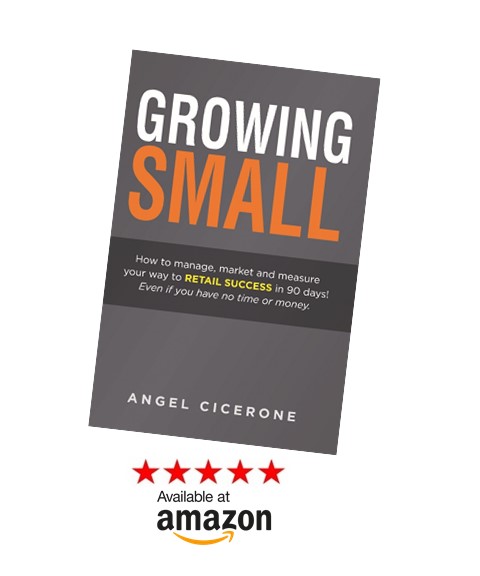 The New Manifesto for
Retail Success!
So many of the owners I have worked with over the years were paralyzed by the fear of losing their businesses or making the wrong decisions. Others just assumed they wouldn't be able to affect change without a huge budget to hire professionals. In my years of working with these owners, I know nothing could be further from the truth.
Owning an independent retail store or restaurant isn't easy. The hours alone would bring most people to their knees! And help to launch, grow or save a small store isn't always easy to find – or afford.
Growing Small, How to Manage, Market and Measure Your Way to Retail Success in Just 90 Days! Even if you have no time or money. is a new kind of book that shows owners exactly how to take back control of their success, regardless of skill level or budget. It's a practical, no-nonsense playbook filled with case studies and examples curated out of the author's experiences as a consultant to Mom and Pop stores across the country. Growing Small focuses on the real life challenges faced by today's small business owners – and provides a proven process to fix them!
The book offers a fresh perspective on the three principals of success: manage, market and measure. It guides the reader through the process of identifying key issues blocking success, then helps them create a 90-day plan to reach realistic goals.
By breaking down the elements into manageable pieces, owners are able to develop the correct strategy and most importantly, measure the results of their efforts. That's when the transformation happens and gives the owner the confidence to continue.
Best of all, the book operates on the premise that most owners are short on time and money and respects that position, offering innovative ideas that require a minimal investment of both.